Embroiderers in Hue, from feudal Nguyen times to the present, never coalesced into a trade village. Some famous artisans lived in the inner palace, while others lived independently with their flock of students.
Among the number of people who studied embroidery during the feudal period, none too few were the men who took part.
Embroidering, stitching, sewing and mending are ordinary fare for most Vietnamese women. Nevertheless, in Hue, the former imperial capital, embroidery has continued to stand out for its uniqueness and has retained its professional character for a long time, especially during the Nguyen Dynasty. Not only did embroiderers from the cradle of embroidery in Quat Dong, Hanoi come to Hue in order to attend to the demands of high class nobles, but those from many other places did as well.
The art of embroidery appeared later than the art of textiles. Embroidery is not purely concerned with making textiles beautiful, but rather, it is also intimately related to ritual ceremonies in which it enhances the essential solemnness of the atmosphere and environment. The majority of garniture and decorations in feudal palaces, temples, and shrines such as canopies, parasols, altar curtains, banners, mandarin gowns, ceremonial boots, mandarin caps and shoes, as well as the ritual paraphernalia used in places of worship, lacquered plaques, and the caps of officiating priests and scholars all enjoyed the significant contributions by embroidery.
In Hue, embroidery is divided into two categories: coloured embroidery and plain embroidery.
Embroidery that was coloured according to the traditional techniques aimed to serve both the palace and the plebeian sphere. Plain embroidery, also known as everyday use embroidery, which included towels, screens, decorations and clothes, rested on the principle of pulling out cloth threads and replacing them with embroidered thread by implementing various techniques. Plain embroidery, which was introduced by the French, were products intended to serve foreigners and some upper-class Vietnamese, who lived according to western ways during the French occupation.
For someone to be certified as a bona fide embroiderer, at the very least he or she must be able to assume responsibility for certain stages in the embroidery process, such as creating a pattern or transferring a satisfactory motif that is patterned on a different material onto cloth.
The main instruments of an embroiderer are the embroidery frame, needle, and thread. Embroiderers must dye their own threads. The embroidery frames in Hue are a kind that uses elongated wood or bamboo, which is grafted together to form a square or rectangle.
Towards the final reigns of the Nguyen Dynasty, especially during the reign of Emperor Khai Dinh (1916-1925), Cam Tu ('Brocade & Embroidery') Street, where Hue embroiderers gathered during this period, had approximately 300 embroiderers.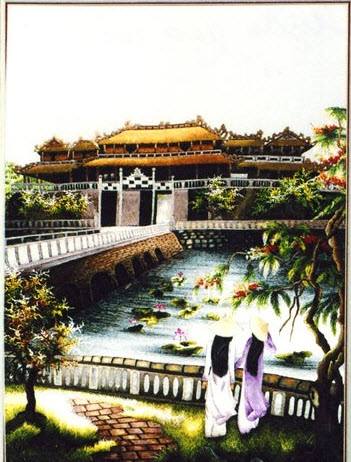 Tradition has it that, when he went as an ambassador to China, Le Cong Hanh, the patron ancestor of embroidery, shredded meat and hid waxy maize kernels and mung bean pods to bring home. In memory of their indebtedness to Le Cong Hanh, in the memorial ceremony dedicated to the ancestor, Hue embroiderers never fail to offer waxy maize and mung beans.
In modern day Hue embroidery, materials like needles, thread, and embroidery frames are imported from Western countries, China, and Japan. Today's embroiderers have carbon paper with which they set motif patterns onto fabric and various types of needles that accentuate the strengths of each style of embroidery. Embroiderers today no longer know how to dye threads according to the traditional method of using natural colours. Embroidery threads used by Hue embroiderers today only have five gradations of dark to light colour variations for each thread colour, while, if the embroiderers were to do their own dying with silk threads, they would be fully empowered to take their own initiative in selecting the degree of coloration they wished to use by gradually making the dye solution fainter for each section of silk thread.
Before the French occupation in 1858, Hue embroiderers used needles that were forged in Mau Tai Village of Phu Vang District in Thua Thien Hue. The embroiderers preserved their embroidery needles like a precious object.
When the French came to Vietnam, they brought with them many kinds of needles.
All threads in traditional embroidery were made of silk. In Hue, several regions are dedicated to the production of various kinds of thread for the craft of embroidery.
When dyeing thread, first the oils on the raw silk must be eliminated with lime and boiling water, so that the thread can absorb dye. The embroiderers must seep the silk with their own hands and stroke the thread in lime and hot water many times before it can be taken out to dry.
During the Nguyen Dynasty, Hue embroiderers, in addition to buying certain Chinese dye products, also dyed their own threads with natural plants. After that, the embroiderers soaked the embroidery thread in lemon juice or green tea to retain the colour.
The intense, delicate, and unique characteristics of the colours exploited in nature and which have been employed by embroiderers when dying silk threads, remain a traditional feature that modern works of embroidery still struggle to realize.