Embroidery – Quat Dong Village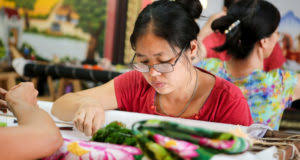 The history of Quat Dong embroidery dates back to the 15th century, when a Vietnamese ambassador in China returned home and passed ancient embroidery techniques to Vietnamese villagers. Over the centuries, embroidery went from being used on ceremonial and royal clothes to adorning a wide range of products. Now you can find beautifully emrboidered tablecloths, bedspreads, sheets, and pillow cases in Quat Dong Village
Do Papermaking – Suoi Co Village
Traditional Vietnamese paper, Do, is made from the bark of Rhamnoneuron balansae shrub native to Vietnam. It's renowned for its texture and its lifespan of 800 years. Many folk paintings, manuscripts, royal edicts (dating all the way back to the 13th century) were written on it.
From the early 20th century, Yen Thai village and some other villages in Bac Ninh province were home to Do paper, which plays a crucial role in Vietnamese folk art. With the influx of industrial production, however, the art of Do papermaking was lost when most villagers failed to make ends meet. Now the handcrafted Dopapers and a variety of products (notebooks, paper fans, postcards…) are being produced again by the Muong people in Suoi Co Village, about 48 kilometres southwest of Hanoi.
Pottery – Bau Truc Village
Claiming to be the oldest pottery-making village in Southeast Asia, Bau Truc Village is home to the remains of the centuries-old pottery skills of ancient Cham. Nowhere else in Vietnam can you find anywhere where elegant hand-worked ceramics are created by such rudimentary techniques. Rather than using the potter's wheel, Bau Truc potters shape the mold by hand and bake it in an open fire, which is fuelled by piles of white wood and rice straw.
Bau Truc ceramics |
Conical hats – Tay Ho Village
In the village of Tay Ho in Hue Imperial City you can't swing a cat without hitting a conical hat. Phu Cam craftspeople have refined the art of traditional conical hat making to extraordinary standards. To distinguish such refined work from normal products, Tay Ho artisans weave paper-cut pictures of well-known landscapes between two layers of palm leaves, which can be seen under the light. Another feature is potry conical hats, in which the lines of a poem are meticulously woven from the inside.
Black Silk Village – Tan Chau, An Giang Province
Elegant and high-end, skillfully made, intricately woven, the Tan Chau village's black silk was especially popular during the colonial era. It held such an exotic appeal to the French that they decided to promote its role in the textile industry in France, and thus its development in South Vietnam. Black dye was so hard to come by that the silk was worn only by wealthy, noble families. Often referred to as the "queen of silk," it has been prized for its high-quality weaving and durability.
From conical hats to pottery to silk weaving, handicraft traditions are in decline in Vietnam. However, Traddition village,  some villages are trying to revive and sustain the beautiful traditional arts that define the country. Here we have identified the best handicraft villages in Vietnam. Don't forget to bring a spare bag for souvenirs!