In Minh Lang, embroidery is so ingrained in the village's daily life and history that even the children and the elderly are skillful in the art. Vietnamese embroidery, which has been practiced in the country since the first century, has been ingrained into the local residents' lives and has helped to improve living conditions across the region.
According to Nguyen Van Thanh, Chairman of Minh Lang People's Committee, examples of local embroidery work can be found in Japan , the Republic of Korea , the UK , France and Italy . Local businesses have ridden the wave of this success story, creating work for around 4,500 local workers, with a monthly salary ranging between 1-2 million VND
Vietnamese artisans from Minh Lang village, Vu Thu district, in the Red River delta province have won the hearts of overseas customers with their beautiful and sophisticated embroidery skills, which adorn costumes ranging from Japanese kimonos to Korean hanboks, and even household items such as bedding and paintings.
Since the start of the 20th century, the skills of Minh Lang's master embroiderers have been considered the pinnacle of traditional hand embroidering, and have appealed whole-heartedly to foreign customers.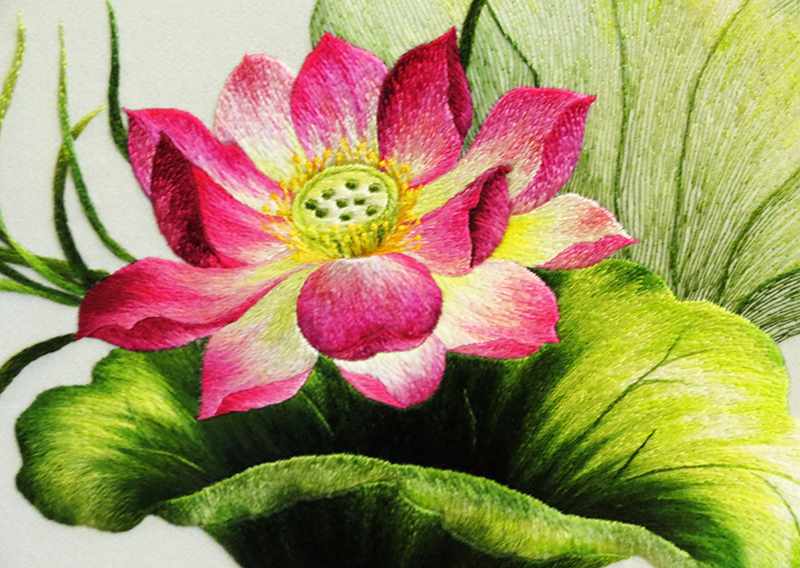 Jean Luc Prevent, a French businessman, said that, in his view, Minh Lang's style of embroidery is astonishingly distinctive and their designs are loved by Europeans.
"Through the rich creative thinking of Vietnamese people and as a result of their rich heritage, the art of Vietnamese embroidery has taken its place as one of the premier art forms and many of its designs are influencing similar European styles. Made from natural fibres such as wool, linen and cotton, these wonderful examples of embroidery have been passed from one generation to the next," Prevent said.
Artisans from Minh Lang use coloured silk threads manufactured by reputable firms including DMC and Anchor to embroider dresses, bedding and paintings. Embroiderers must be skillful, artistic, careful, patient and possess a keen sense of aesthetics in order to carry out their work. Each kimono, retailing for anywhere between 2,000-3,000 USD takes the artisan a month to complete the intricate embroidery.
Prevent said many of his countrymen are extremely fond of Vietnamese lace embroidery. He added that he has long been a fervent admirer of the Vietnamese style of embroidery. Although machine embroidery is currently available, there remains a niche for those who truly appreciate the quality and hard work of embroiderers who devote their life to this marvellous work.
Minh Lang now boasts more than 20 embroidery businesses, creating breathtaking traditional costumes for export and earning tens of millions of USD each year.
Nobuo Kikuchi, a businessman from Japan , said that last year he ordered a batch of 100 kimonos from Vietnam , his first contract with a Vietnamese supplier.
He said he wanted to investigate the range of products offered by new suppliers and was advised that Vietnam was a potential source of beautiful embroidered products. The kimonos that he received from Vietnam surpassed his wildest expectations, he said.
"Vietnamese embroidery has long been highly regarded in the Japanese market because of the refined and sophisticated work involved. In Japan , hand-stitched embroidery is extremely expensive and, as a result, limits its marketability. We have to outsource this work to other countries, particularly for our kimonos. The high quality embroidery from Vietnam has become very popular, due to its reasonable price', Kikuchi added./.