NHA XA SILK VILLAGE – HA NAM PROVINCE
Nha Xa Silk Village is located in Moc Nam Commune, Duy Tien District, Ha Nam Province, on the left bank of the Red River, which borders Hung Yen Province. The silk products of Nha Xa Village are also very popular. If silk Van Phuc Ha Noi top, the product of Nha Xa silk village is equally famous with quality and design very well.
Nha Xa Silk Village is well known for silk weaving and its silk is ranked second only after Van Phuc silk in Hanoi.
Legend has it that the village's craft founder was Prince Nhan Hue Tran Khanh Du, a talented general in the Tran Dynasty. During a trip on the Red River, he taught people in the village how to catch fish on the river for breeding, to plant mulberry, to raise silkworms and to weave silk. Since then, the silk weaving craft in Nha Xa Village has been handed down from generation to generation.
During the early 20th century, Nha Xa silk products were available in many provinces and cities nationwide and ranked second only after Van Phuc silk in Hanoi. Although facing tremendous difficulties in production and looking for markets, the villagers have made great effort to preserve their traditional craft.
Visiting the village on an asphalt road today, we saw a bustling working atmosphere with the sounds of power-looms in households. The village has undergone great changes. According to Nguyen Hong Tien, Chairman of Nha Xa Village's Silk Craft Association, 90% of households and 800 people are engaging in the craft. The whole village has about 200 power-looms. Some households have a production line with 4 – 5 power-looms which operate at full capacity. Many large workshops have dozens of weaving machines, including ones specialising in producing high quality products to provide to Hanoi, Hue, Da Nang and Ho Chi Minh City, and export to Laos and Thailand.
If you visit Nha Xa Silk village, you will immediately hear the weaving loom from the craftmen, and the woven silk products here represent traditional textile technology. Silk products are widely sold to high quality market and exported to many countries because of their softy and delicacy.
VAN PHUC SILK VILLAGE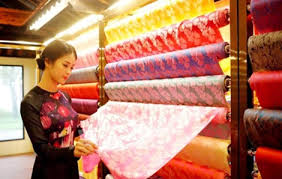 At the age of more than 1,200 years, Van Phuc is proud to be the most ancient silk village which provides the best silk in Vietnam.
Visitors to Van Phuc village will be impressed by typical manner of an ancient village in the north of Vietnam with banyan tree, well, communal house, and the sound of power-looms everywhere. Walking on the main road in Van Phuc, tourists will be lost in the world of silk with various products like shirts, ties, crafts, dresses… made of silk available in the village.
For a long period of time, silk was considered as extremely precious handwork which was only used to tailor Royal members' and aristocrats' dress. The special beauty of Van Phuc or Ha Dong silk was inspiration for many Vietnamese poems, songs and movies (see The White Silk Dress, one of the 5 most outstanding Vietnamese movies).
In Nguyen dynasty time, Van Phuc silk was brought to Hue imperial citadel to make dress for royal members. Between 1931 and 1932, Van Phuc silk was on display in international exhibitions for the first time in Marseille, then Paris and was highly appreciated and preferred by the French. From 1958 to 1988, Van Phuc silk mostly was exported to Eastern European market, and since 1990, it has been known widely in many countries all over the world.
Van Phuc silk has been known for its smooth, light weight, and elegant appearance. Especially, a traditional kind of silk called Van Silk made in Van Phuc make the wearers feel cool in summer and warm in winter. Today, to satisfy various demand for silk of the market, Van Phuc silk producers have expanded their silk and garment goods like embroidered silk, , wrinkled silk, double layers and more colors for silk products.
Many families in Van Phuc open their own shops on the main road of the village; create a "town of silk" that sell eye-catching and high quality silk products. Tourists may buy available nice souvenir and clothes in the shop, or select the most suitable materials to then get customized products. The sellers are very friendly and can speak a little English and French to communicate to foreign tourists.
Nowadays, although the weaving has been mechanized for higher productivity, there are still simple manual looms in some houses in the village which help tourists contemplate the genuinely traditional Vietnamese way of making silk.
DUY XUYEN SILK VILLAGE – HOI AN
Duy Xuyen Silk Village (Also known as Hoi AN Silk Village) is located in Hoi An Town, Quang Nam Province, Vietnam has a history of over 300 years, ranging from silkworm rearing to silkworm rearing and silk weaving.
Visitors to Hoi An Village, you will see the different stages of silk processing, from the old mulberry garden, silkworms raising place to the place where weaving cloth, silk weaving from the silk thread on the looms and the finished product into a shirt, colorful scarves.
On the way to visit the village of Hoi An, visitors will discover, learn and learn new things from the nursery silk weaving traditional Vietnamese. Thereby, visitors not only feel that they will be attracted by the emotions, reverence and admiration of the craftsmen, proud of the village and cherish each traditional handicraft product.
TAN CHAU SLIK VILLAGE – AN GIANG PROVINCE
Tan Chau silk trade village is located in the North West of An Giang province. It has a long history in Silk processing industry, where there are many mulberry and silk weaving workshops. The local silk weaving technology has been inherited for many generations.
Tan Chau silk has its fame because of the softness, toughness, long-wearing and high absorbability of natural silk material. All clothes made from Tan Chau silk bring to people comfort, coolness in summer, warmness in winter. Tan Chau silk is deserved to be called "Queen" of silk.
Actually, materials for making Tan Chau silk are all produced by local people themselves. They grow shrubbery feeding silkworm to generate silk, plant mac nua (D. mollis) tree to take its fruit making dye. To make a unit of Tan Chau silk, the makers must spend many time and labor in many different parts of process. Firstly in silk choosing part, the maker must select the good type of silk to squeeze, seize on the loom then put on the weaving pattern. After finishing weaving, weaver starts the part of making dye. The big and young mac nua fruits are selected (the ripe ones are not suitable because of not having resin), kneaded well in mortar or in crushing machine and then dissolved in water, creating a nice yellow liquid which will turn into black when meeting the air and temperature. This liquid is filtered to leave the residue and used for dying.
The part of dying silk is considered the most important and most elaborate one in the whole process which includes a hundred times of soaking silk in dye to ensure that each silk thread absorbs equally After each soaking time, people have to use their hands carefully squeezing silk then hang it out. When drying, they must choose the suitable sunny days in order to dry silk 4 units of sunlight per day. If being hang out in rain or light sunshine, the quality of silk will decrease. After about 40-45 days of dying and drying, the product is taken in new process becoming beautiful clothes which make people to contemplate and to praise because of their brilliant beauty.
Because of the long time and much labor for making Tan Chau silk, its price is very high. In about 60s -70s of 20th century, this kind of product was not suitable for daily needs of people then slowly came to disappearance. The internal market refused it due to its expensiveness while color was the reason for the refusal of external market.
Visit The 4 Oldest Traditional Silk Villages And See The Elaboration Of Making Silk In Vietnam
Talking to Vietnamese silk, people often think of fluffy long dresses, silk scarves, colorful silk lanterns along with soft bed sheet products … In order to have these wonderful products, first of all, we must have a material that is made of silk, which comes from the traditional textile village, from silkworm silk to silk printing, dyeing and embroidery that features the characteristics of the local silk processing industry.
Here is 4 Oldest Silk Villages in Vietnam.
Silk Village in Vietnam
Makers have found other dying technique to generate different colors
However, for recent years, due to the common direction of development and fashion trend leading to high quality products which express cultural features, the brand of Tan Chau silk begins to be restored and returned into deserved position.  Besides the traditional black color of natural dye from mac nua fruit, Tan Chau silk makers have found other dying technique to generate different colors, meeting the customer's requirements which are more various day by day. This is a valuable chance for a famous craft village, which has been down for a long time, to restore its thriving past.