Collections of traditional Palestinian dresses and pieces of traditional embroidery have been showcased at the Palestinian museum, in the town of Birzeit, near central West Bank's Ramallah city, revealing numerous stories of Palestinian women and their handmade embroidery.
Labor of Love is the name of the exhibition launched by British artist Rachel Dedman who said she has been exploring and researching Palestinian embroidery for the past four years, until she came out with the exhibition showcasing traditional dresses across Palestine.
Traditional embroidery is handmade weaving of thin silk braids that takes a great deal of patience and accuracy. It is a job mainly tasked to women, who weave their own dresses and men clothing for different occasions.
The first dresses on display in the large gallery space at the Palestinian museum are day-to-day ones that are shown behind glass and under warm yellow light that are carefully made for the preservation of the traditional collection of dresses.
Dedman said embroidery "deserves to be treated as more than just heritage, but rather to think of it as a material history that can tell us so much about gender, about the politicization of symbolism in Palestine, about the nature of female labor both historically and contemporarily, about class."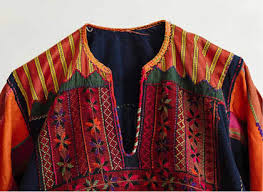 She said "the exhibition is not only seeking to celebrate the historic dresses that we know and love, but also to look further and consider it a catalyst for the intimate examination of little told histories."
Women in Palestine regard embroidery as a local handicraft that at some point became a source of living for thousands of households, especially as the import of textiles thrived the local weavers in the 19th century, which also invited new styles that began to develop and merge various motifs and customs after the 1960s'.
Traditional embroidered dresses that come with different head dresses often represent prestige and refer to special occasions, like weddings, birth and welcoming guests or relatives coming back from long-distance travels.
With incoming generations and more political phases in the Palestinian history, embroidery became iconic and started to appear on posters around the world and the paintings that went out of the region.
To many people, embroidery is an art and a means to safeguard heritage, like 63-year-old Raja' Al-Zeer, who learned embroidery at school, and started to knit her own pieces at age of 12.
In the farthest corner towards the exit route of the gallery, stands a unique dress that is embroidered in full with light green and flowers in several shades of pink that Al-Zeer herself considers as her own masterpiece in her nearly 50 years of working in embroidery.
"I started embroidering this dress ten years ago for my son's wedding. I embroidered it and finished it and it has come out as a masterpiece that is liked by anybody who sees it," she said.
She went on saying that "they used to teach us embroidery in schools, but today they no longer do that. Since then, it has become my hobby and I started to embroider pillows and frames. Then I got married and travelled to Kuwait, where I continued to do embroidery work. We returned 18 years later to the West Bank and I did not stop my embroidery work."
"I love embroidery," she said "If I had anyone to help me with my house chores, I would do embroidery all the time without being bored, because it is our heritage and I love it."
Al-Zeer explained, however, that handmade embroidery work has gone down a steep slope, due to the high prices of material as well as the popularity of cheaper, computerized and commercial embroidery.