Let's discover the beauty of Korean traditional embroidery.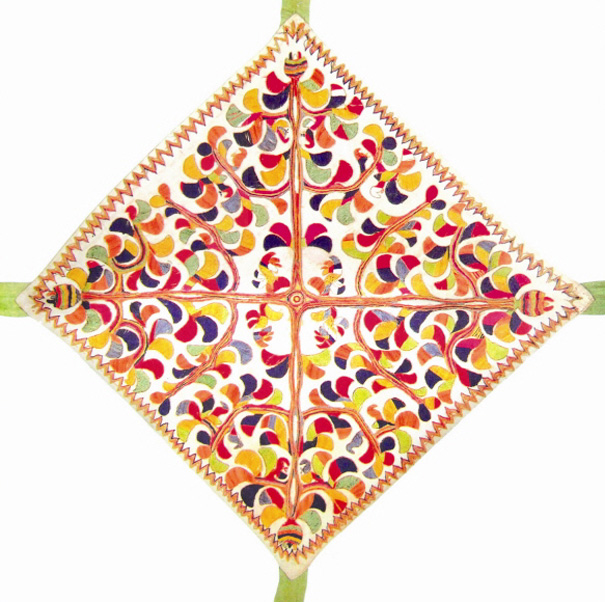 This gallery is on Ganghwa-do Island, Incheon. A collection of over 100 pieces of Korean traditional embroidery has been on display since January, representing the zenith of Korean handicraft.
Korean traditional embroidery shows the ultimate art of handicraft. With every stitch epitomizing the labor and dedication required, this traditional legacy is gaining momentum once again with slick 21st-century allure.
"I rarely see these types of embroidery pieces because they are less today, and I live in the city."
"I was impressed by the labor and dedication each stitch captures. I really enjoyed the artworks."
All these colorful, exquisite pieces have been created by one master artisan. It's Lee Jeong-sook, with over 40 years of her life dedicated to traditional embroidery.
"This exhibition has been organized to highlight the value of traditional embroidery through Lee Jung-sook's artistry, which offers a modern twist to Korea's cultural heritage."
From norigae , a Korean traditional ornament for the hanbokTo the traditional wrapping cloth bojagi, all kinds of everyday props become pieces of art with colorful embroidery. With its origins dating back to Cro-Magnon days, embroidery is commonly found in both eastern and western countries. Still, Korean traditional embroidery is in a league of its own with voluminous and dynamic impressions created by multiple, twisted strands of silk thread. Royal costumes offer the quintessence of Korean embroidery. Hwarot , a princess's bridal robe, and a ceremonial coronet are also decorated with silk flowers patterns.


"I believe tradition has the greatest global appeal. With that in mind, I decided to take up embroidery again in my 40's, which I used to do in my 20's as a hobby. My new goal is to globalize this cultural heritage using traditional techniques and develop it into an appreciated form of art."
Since inheriting the Korean cultural asset, she's been putting a modern twist on the traditional heritage, which used to only feature the country's five basic colors, called obangsaek – red, black, blue, white, and yellow.
"This is an embroidered wedding bojagi, a Korean traditional wrapping cloth, with phoenix. I had a hard time, embroidering the gradation, but I really enjoyed the whole process."
This is Lee's studio where she spends most of her day. She's been busy, decorating lucky bags. Production time varies depending on the size and complexity of embroidery, ranging from 5 to 6 hours to 4 to 5 years.
"When it's quiet, I can hear the needle and silk thread piercing the cloth."
Lee combines traditional embroidering patterns and techniques with pastel-colored thread. The stark contrast between tradition and modernity further articulates the extravagant, voluminous and exquisite qualities of embroidery, satisfying the taste of today's people.
"The production process begins with coloring thread based on the signature traits of the piece. I color thread with chroma levels from 1 to 8 to create gradation, which is possible because I personally color it."
Back in 2014, Lee presented her bojagi to Pope Francis during his visit to Korea. With elaborate flowers and trees made of some 30 different colors of thread.
"I didn't think much about the government purchasing my piece, but the favorable reception I got overseas made me realize that I underrated my artistry and needed to cherish it more."
These days, the artist is focusing more on her activities abroad, so Korean traditional embroidery can receive more recognition and appreciation from the world.
"I have a 5-year overseas-exhibition plan starting this year. Along with that, I'm going to keep embroidering as long as my eyes allow it and spreading my artistry to the world as long as my legs hold up. I'm working hard to pave the path for my juniors to show them the way."
In this technological era it's hard to imagine dedicating months and years to creating a single piece of work. However, Lee endures that labor for the sole purpose of preserving Korea's cultural heritage and spreading it to the world.
Every stitch captures labor and devotion. That craftsmanship is what makes Korean traditional embroidery a unique gift for the entire world.
Ariang