Silk: Van Phuc Village, Ha Tay Province
Situated on the bank of Nhue River, about 10km southwest of Hanoi Old Quarter, Van Phuc silk village is renowned for its traditional weaving and premium quality silk products.
A girl in traditional costume made from Ha Dong silk of Van Phuc Village
Ha Dong (Van Phuc) silk is smooth, lightweight, and has an elegant appearance.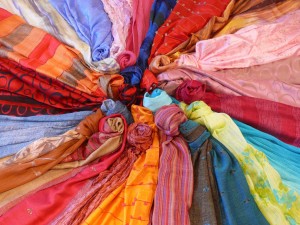 Beauty of Ha Dong natural silk scarves
Ceramics: Bat Trang Village, Hai Dung Province
The 500 year old ceramic making village Bat Trang is located about 10 km away from Hanoi to the right side of Hong River. There you can find beautiful ceramics and the makers.
A pair of Bat Trang vases
Embroidery: Quat Dong Village, Ha Tay Province
There are many embroidery villages in Vietnam, but Quat Dong village in Hanoi has the highest quality embroidery products.
A hand-embroidered painting of Quat Dong village
Sedge Mats: Dinh Yen Village, Dong Thap Province
Dong Thap, which is home of endless rice fields and stunning lotus ponds, is where a handicraft village is located that is famous for its woven sedge mats.
Sedge mats are dried before getting trim extended strings
Sedge is shipped from other nearby provinces by boats, then dried and split into thin strings. After that, they are dyed in different colors and dried again until good enough to be woven.
The village is always colorful
Weave mats used to be sold in the "ghost" market at night to early morning up until 5 years ago when the government built a new market.
Sedge mats are being sold at Dinh Yen market
Poonah-Paper: Yen Thai Village, Quang Binh Province
Paper making started here during the 15th century.
Poonah material is taken from the bark of poonah trees, which are planted in many northern provinces in Vietnam. The traditional production of poonah-paper in Yen Thai Village is mainly used for printing books, writing Han scripts (Chinese influenced writing) or printing folk paintings.
Making poonah papers with a traditional method
Folklore Painting: Dong Ho Village, Bac Ninh Province
Dong Ho painting is a type of folklore painting made in Dong Ho village, also called Ho village, in Bac Ninh Province which is about 35 km from Hanoi.
Dong Ho paintings
Conical Hats: Chuong Village, Ha Tay Province
Located in Thanh Oai District, which is 40 km from Hanoi, Chuong Conical Hat Village is known for its special product "nón lá" (conical leaf hat). This small village is crowded with many foreign and domestic visitors who not only come here to place orders, but also witness the process of making "nón lá".
Making conical hats in Chuong Village
Main material of a conical hat is palm leaf.
In the making
Black Silk: Tan Chau Village, An Giang Province
Tan Chau silk is highly valued and widely appreciated for its special softness, durability and high absorbency of natural material. Clothes made from Tan Chau silk bring those who wear it comfort since it is cool in hot weather and warm in the cold.
Silk makers must wait for the best sunny day to dry their silk
Green Young Sticky Rice: Vong Village, Bac Ninh Province
"Cốm" (green sticky rice) is a delicacy that is made only in autumn and cherished by all Vietnamese. Vong village, on the outskirts of Hanoi, is said to produce the best "cốm" in northern Vietnam.
Green young rice grains
"Cốm" can be eaten with persimmons or ripe bananas or used as an ingredient for "chè cốm" (a sweet soup with green young rice), "chả cốm" (a salty pie made of pork and green young rice) and "bánh cốm" (a green square sticky cake), which are eaten at most traditional engagement ceremonies.
Traditional green sticky rice square cakes
Square Sticky Rice Cake: Tranh Khuc Village, Hanoi
Tranh Khuc village in Thanh Tri District on the outskirts of Hanoi is famous for making "bánh chưng", a typical square sticky rice cake for the Lunar New Year or Tet Holiday in Vietnam. The cake produced here is renowned for its distinctive flavor.
Vietnamese banh chung
Normally, a household makes an average of 200 cakes a day in this village, but the week before Tet holiday, demand rises and households increase their cakes making up t0 10 times more!
Wrapping "banh chung" requies clever hands